Introduction to Singapore
Singapore is a city where...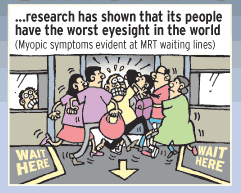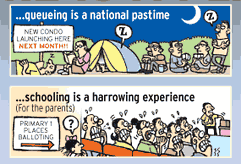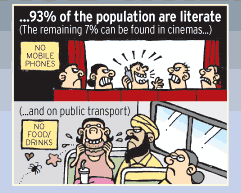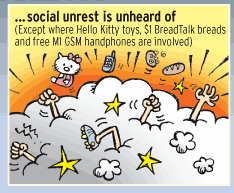 A Little History...
Singapore was founded in 1965, when it broke away from Malaysia to become an independant country. Singapore celebrates it National Day on August 9th every year.

The LonelyPlanet gives a good summary on Singapore's vital stats.
Singapore Flag
This is what the Singapore flag looks like: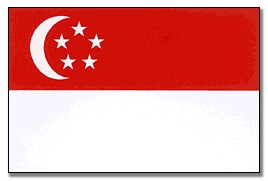 Things to do in Singapore
I've been living in Singapore for over 5 years now. My very own "To Do" list is below...it's something I put together over time for friends who have come here to visit. Last updated in November 2003.
Things to See and Things to Do:
Night Safari:
This is good fun. I highly recommend it. The animal show, held twice nightly at 8pm and 9pm near the entrance is pretty good too.

Singapore Zoo:
You can have breakfast or tea with the Orangutans, should you so desire. Can be very hot at the Zoo during the day. An enjoyable day out. Take your camera. The animal shows are good, especially for kids.

Little India:
Great for a wander. Lots of interesting little shops and some excellent eating establishments! More about where to eat provided below. Go to Mustafa's department store if you need to buy anything. It is open 24hrs, and it sells everything from cricket bats to jewellry, deep friers to suitcases, and anything in between.

Chinatown:
Again, pleasant to wander around. Much nicer since the construction of the new MRT line has finally finished. Several little shops selling trinkets, antiques, art and clothes. There are a few tailors making suits, shirts and dresses, and also ready-to-wear cheong sams and lots of cheapy t-shirts of questionable quality. Gets very crowded around Chinese New Year, when there are open air markets selling all sort of goods to the masses.

Jurong Bird Park:
I actually enjoyed my visit here more than I thought I would. The exhibits are interesting. It gets very hot in the middle of the day though.

Singapore Discovery Centre:
Hmmm. I had to go there with my students a few times. I think it's good for younger kids, maybe age 8-15 ish. Some interesting, interactive exhibits.

Boat Quay:
Eat and drink down by the river - there are lots of restaurants and pubs to choose from. Take a tour on one of the bumboats.

Raffles Hotel:
Have a Singapore Sling at the Long Bar. I think Slings are overly sweet, but you might like them; besides, you can't very well come to Singapore and not have a Singapore Sling can you? High tea at Raffles is goooood - the High Tea in the Tiffin Room is more formal than the Long Bar, but both buffets have excellent food. Go hungry!

Botanical Gardens:
A nice place to walk or jog. Pretty orchid garden. Botanic Garden often hosts free open air concerts on Sunday afternoons (they usually start around 5pm). Take a picnic, a blanket and a bottle of wine. Lovely.

Sentosa:
Singapore's getaway - there's a beach and a little theme park, plus some museums. Take the cable car across. I liked the underwater world.

Colonial area:
Old style houses/buildings. Interesting colonial places are Empress Place, the Padang, the Esplanade, the Raffles's area, Bugis Street, City Center, Fort Canning, and Marina Center.

The Esplanade - Theatres on the Bay:
Love it or hate it, you should at least take a look at Singapore's Theatre and Concert Hall complex. This building is sometimes referred to as the Giant Durian by locals, after the spiky fruit that it resembles. There are some small shops and several restaurants around the waterfront area.

Orchard Road:
Shops, shops and more shops. Clothes shops and shoe shops and department stores and sports stores and jewellery shops and electronics shops...what else can I say about this area? Looks nice during Chinese New Year and Christmas when everything is decorated and pretty.

Kranji War Memorial:
I don't know anyone who's actually gone, so can't really comment on this.

Pulau Ubin:
Little island wilderness off the east coast of Singapore. Take a junk boat across from Changi Village. Hire a bike and go for a ride through the jungle paths. A nice day out. Take sunscreen and water!

Snow City:
In an attempt to make sure Singapore has it all, some bright sparks went and built a snow dome... yes, we may be a mere 2 degrees north of the equator, but it is possible to frolick and play, the Eskimo way. You can ski, snowboard or snow tube down a snow-covered slope. Enjoy snowball fights and freeze your bits off playing in genuine artificial snow.

Take a cookery class:
There are a couple of places in Singapore that do cookery classes. Learn to whip up some of the local specialities. My friend took a class at At Sun Rice and enjoyed it.

Go to one of the nature reserves:
o Bukit Timah Nature Reserve - Big hill. Kids playground. Lots of monkeys.
o Macritchie Nature Reserve - Big reservoir. Lots of monkeys, turtles and sometimes monitor lizards. Go for a run or hike on the trails.
Eat: Makan time
Fact: Singaporeans love to eat. They love all different types of food, and there are literally hundreds of great little restaurants, cafes, food stalls and hawker centers island wide, serving up delicious meals 24 hours a day, 7 days a week, 365 days a year. Singapore is a foodie's heaven.
General Eats:
Komala Vilas:
Excellent south indian vegetarian food restaurant. Cheap! Great value for money. Must try the dosai and the sweet lassi! Located on Serangoon Road, Little India.

First Thai:
Thai food restaurant located downtown on Purvis Street, which is just off Beach Road, near Raffles Hotel. Food to try: mango salad, balachan rice, olive rice, tom yam soup, red snapper in three sauces and kailan in oyster sauce, followed by sticky rice with mango and coconut jelly, all washed down with fresh lime juice and/or tiger beer. Woohooo!

Blue Ginger:
Peranakan food restaurant. Located near Tanjong Pagar MRT station. Must try the Ayam Buah Keluak. Taaaasty.

La Pau Sat:
Eating at this giant food court is part of the Singapore experience. The open air food court is housed in a converted Victorian market. Fantastic homemade noodle stall, BBQ stingray, fresh juices, desserts - try soursop or mango soursop - yum!

Newton Circus Hawker Centre:
Very popular and busy hawker center on the corner of Scotts Road and Bukit Timah Road, near Newton MRT. Food here is a bit more expensive than at other hawker centers - partly due to it's location and partly due to it's notoriety. Try the pohpiah and carrot cake! Lots of seafood available - but can be expensive. This hawker center is especially popular with the post-pub and club crowd after hours at weekends. You can buy beer, and satisfy those late night greasy-food cravings with murtabak and roti john. Mmmmm. Watch out for touts.
Bukit Timah Area:
Al-Ameen Eating House:
Located along Upper Bukit Timah Road, opposite Beauty World Plaza. This 24 hours muslim restaurant, serving up a range of thai, indian and other food. Recommended dishes include: Roti Prata, Chicken Murtabak, Nasi Pattaya, Tom Yam soup (spicy!), Chicken Patrick, teh hallia (ginger tea) and prata pisang (banana prata, served with curry)

Bukit Timah Hawker Centre:
Back in business after being knocked down and completely rebuilt at the beginning of 2003. Hainese chicken rice, popiah, satay, BBQ seafood (especially the sting ray), carrot cake (not the dessert kind), sugar cane juice with lemon...the list goes on and on... Bkt Timah hawker is located on the corner of Jalan Jurong Kerchil and Bukit Timah Road.

Ivin's Restaurant:
Located at 19-21 Binjai Park, this little eating establishment serves up excellent Peranakan food very reasonable prices. Closed on Thursdays!

Brazil's:
Meat fest anyone? This restaurant is located on 6th Avenue, just off Bukit Timah Road. It serves meat, meat, all you can eat. Waiters walk around the restaurant, carving off slivers of meat from a skewer onto diners' plates. They serve all different cuts of beef, pork, chicken and lamb. Oh, and pineapple. There is a salad bar too, for side dishes or any vegetarians daft enough to venture in. Fixed cost of around S$50 per hear for all you can eat meat, or around $S30 for just the salad bar.
Down Town:
Our Village:
North Indian food, located along Boat Quay.

Sukothai:
Nice thai food, but it's a bit expensive. Located along Boat Quay.

Pasta Fresca:
Italian cuisine. I like their linguine marinara. Located along Boat Quay.

Siem Reap II:
Located opposite Boat Quay, behind the Asian Civilisations Museum, this restaurant has a nice atmosphere, with tables outside looking out onto the river. Food is good and reasonably priced. The spicy sausage, fresh rice paper rolls and the Laotian laksa are all delicious.

Brewerks:
Mostly American style food. Tasty, big portions and nice beer. Located along Clarke Quay.

Cafe Iguana:
Mexican food. Well, TexMex, anyway. Pretty good food. Located along Clarke Quay.

Cafe Cappadocia:
Good Turkish food. Cheap wine (house wine is S$25 a bottle - and it's not paint stripper either!). Located inside Robertson Walk, which is near Mhmd Sultan Road. Another branch recently opened at the Rail Mall along Upper Bukit Timah Road.
Holland Village:

Cha Cha Cha:
Mexican restaurant. Good margaritas! Food is nothing special though.

El Patio:
More Mexican food, right next door to Cha Cha Cha. Again, food is nothing special, but it might settle a craving in a pinch.

Siem Reap I:
Laotian, Cambodian, Vietnamese food at reasonable prices. Deeeelish.

Spizza:
Excellent Italian-style wood fired pizza, with a lovely thin crispy crust. Best in Singapore.

Bellagio's:
Excellent ice cream. Over 60 flavours. Try the Rocher and Toblerone - choctastic!

Original Sin:
Vegetarian food - tasty, but a bit expensive.

Walla Walla:
More of a bar than a restaurant, but they serve decent pizza.

Breko:
Serves sandwiches, salads and baked potatoes. Also has nice coffee and relatively inexpensive beer. Usually has the daily papers for customers to read. A nice place to sit and watch the world go by on the weekend. Shows Premiership matches on the tv.
Orchard Road:
Scott's Picnic:
Air-conditioned food stalls, near Tangs at the corner of Scott Road and Orchard Road.

Olio Dome:
Located upstairs inside Wheelock Place (where Borders books is). Nice salads and sandwiches, good coffee, plenty of magazines and newspapers to read.

High Tea at Raffles:
Either the Tiffin Room (a bit dressy) or the Long Bar (casual).

Sunday brunch at Mezza9 at The Hyatt:
Amazing food and lots of it. Free flow champagne. Chocolate fountain. Book ahead, 'cause this is popular.
Going Out:
CHIJMES:
Several nice restaurants and pubs, and some places to go dancing too. Good atmosphere, especially at night. Sometimes has live music. Sometimes shows major sporting events, such as Football World Cup games on large screens in the downstairs courtyard.

Igor's:
Restaurant meets horror house - it's a theme restaurant that entertains visitors with a mix of cabaret and theatre. I haven't been to the Singapore version, but the one in Hong Kong was fun.

Equinox:
At the top of the Swissotel at Raffles City, there are a couple of bars and a restaurant or two. The bars have a fabulous view out over the city. Happy hour goes until 9pm, when cocktails are half price.

Take in a Show:
Seeking other entertainment? Have a look at the Sistic website , which list most of the events going on in Singapore, including theatre productions, concerts and foreign language films. You can book and buy tickets online.

Zouk:
Zouk is the place to go clubbing in Singapore. Actually, there are three clubs, Zouk/Velvet/Phuture in one location. It's often packed out, has guest DJs most weeekends from all over the world. Fun, especially if there is a good guest DJ.

Boat Quay:
Check out the flyers and chalk boards for all-you-can-drink (free-flow) deals at places like Zappa's, Taps, Fez Bar and probably some other pubs...just read the placards, and ask around. Beware though, hangovers in tropical heat are painful.

Boom Boom Room:
A transvestite show at Far East Square - funny, helps if you can understand Singlish.

Emerald Hill:
Number 5 and Ice Cold Beer. Happy hour before 9pm.

Carnegie's:
Everybody claims not to like it, but it's always packed by around 11pm, because after a few beers, it suddenly seems like a fantastic idea to go there. No cover charge. Plays popular chart music, plus the usual mix of 80's and 90's hits. People dance on the bar. No dancing on the bar allowed by law any more. Ah, well.

Mohammed Sultan Road:
Pubs and Clubs line this street, so chances are you'll find somewhere suitable for a drink and a boogie. Most Clubs have a cover charge of around S$10 - S$20, but that includes your first drink, or sometimes 2 drinks. Boys usually pay slightly more than girls. Ha!
Shopping:
Sim Lim Square:
Computers, computer peripherals, cameras and much, much more.

Funan - the IT mall:
Appropriately named. Lots of electronic gadgetry.

Queensway Shopping Center:
Great place to buy sports shoes, flip flops and trainers in general. Less expensive than the majority of the down town shops. Be sure to ask whether there is any discount available - sometimes there is and sometimes there isn't, but you won't know unless you ask! If you buy more than one pair of shoes in the same shop, you'll usually get some sort of discount, maybe 5-10%. Also sells assorted sporting clothes, camping gear and other outdoorsy stuff. To get tehre, take bus 195 from Queenstown MRT, or go in a taxi. The shopping center is diagonally opposite Ikea.

Beach Road:
Lots of backpacks and outdoorsy gear for sale on Beach Road, in the old market shopping center. Good prices.
Weekend trips:
o Kuala Lumpur
o Melacca
o Tioman
o Cameron Highlands
o Bintan
o Bangkok
o Penang

You might be a bit rushed for some of these, but it is possible to do! You can drive or take a bus to KL, Melacca and Cameron Highlands. Tioman and Bintan are reachable by ferry. To get to Bangkok and Penang, you'd probably want to fly if you are only going for a weekend. Checkout SilkAir and Malaysian Airlines for ticket availability and prices. Note that it can be a lot less expensive to fly on Malaysian Airlines if you take a flight from the airport in JB rather than going from Singapore's Changi airport.
3 day weekends/Short Trips:
o Bali
o Taman Nagara
o Krabi
o Phuket

Might be a bit rushed, but definitely possible. Try SilkAir or a local travel agent for flights.
Further Info from other sources:
Here's a To Do list, put together by HweeLing. It contains her list of Sights Worth Seeing and Must Try Local Foods.

Also, I really like this list, put together by some Ngee Ann staff (where I used to work) - look beyond the stuff at the top of the page which is just specific to Ngee Ann - there is a comprehensive list of good places to eat, complete with links to maps. Handy.
That's all folks...
Think I missed something out? Have a suggestion you think I should include? Let me know.
If you want more information, hundreds of other sites that are just a Google away!
>> To the top